Client Spotlight: Behind the Lens with Yusri 'Shaggy' Sapari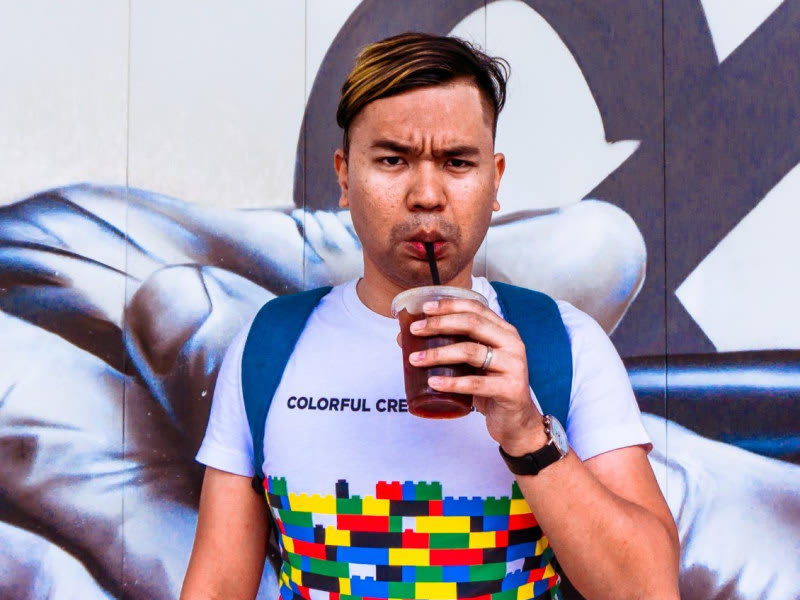 For the last 2 years, Yusri (Shaggy) Sapari, Founder of Paradise Pictures SG has been a Servcorp client at Six Battery Road, Singapore. It is our pleasure to highlight his creative work, passion for his craft, and how Servcorp supports his business.

What inspired your initial passion for film and photography?
My passion started back when I was a toddler. It was not really about film or photography but the idea of preserving memories. My dad bought me a cassette tape recorder. It was pretty much my only toy. I enjoyed playing with it to record everyone around me. I enjoyed and still enjoy being the one responsible to capture the memories around me. Living in a fast-paced city like Singapore, you tend to be more conscious of this responsibility as the country forges fast towards the future. We had many spaces and places that were revamped or removed entirely. Designs around us change a lot too. I feel it is a good thing to experience recordings from the past to learn more about ourselves. We need a basis of comparison to recognise how our lives have improved over the years. Things change gradually. We often overlook the changes until it is too late. Not seeing the past also means we might take our present for granted since we forgot what came before.

Fast forward to my late teenage years, I pursued my education in New Media. I was hoping to become a journalist, setting out to do what I mentioned above. Back then in 2006, nobody knew what New Media was going to be like. There was no Facebook, YouTube, and Instagram as we know them today. My years studying New Media introduced me to the arts. That opened my eyes to the potential of recorded media as an art form. After that, I spent 5 years in a theatre company in Singapore that creates socially engaged work. That was the place where I learned how to develop art with a deeper emphasis on listening to people and their stories. I still hold those lessons close to me till today.

Is there anyone or any business in the industry that inspires your conceptual film work?
In 2020, many of us spent a lot of time at home due to the social distancing measures put in place by our respective authorities. As a result, we had to heavily consume media at home. Many organisations, be it government, statutory boards, MNCs as well as NGOs all crowded into our various social media platforms to engage with audiences. At the end of the day, what most of us remember is content that continues to give us a sense of wonder and dream through this difficult period. South Korean series on Netflix such as Itaewon Class and Mr. Sunshine captured the hearts of the people around me. Most people see the media as just a mode of information transmission. A lot of us rush to get the highest quality imaging equipment and software. People only remember how great they feel when they consume your content. I appreciate how channels such as Our Grandfather Story chose to feature inspiring people that we would normally overlook such as a youth growing up in Singapore's rental estates to share their lived experience, a sign language interpreter from Malaysia whose work helps bring accessibility to her community and a worker at Singapore's Muslim cemetery who helps clean the graves of our loved ones when we were not allowed to visit them. What inspires me about these works is the sincerity that they communicate to the audience.

When you're establishing ideas for new projections, what are your first considerations, techniques for choice, or process in decision making?
With a large amount of content flooding our social media now, I need to be very clear about my goals when taking on any project. What goals would this project serve? Is it a long term goal or a short term goal? How could I help the community I'm working with to communicate those goals to their audience. It is ok if the people I work with cannot exactly articulate those goals. I would go through it with them to help them find it. I always want the best for the people I work with and to make their investment, be it time or money, to be worth it. Knowing their goals help me customise the narrative we want to portray. These days, it is not enough to just make a video and tell people to like and share it. The mileage depends more on how you resonate with your chosen audience. It is easy to feel that your job is done when your friends like and share your work but it's more meaningful to form new connections with every work you put out. Every project must be taken on with a growth mindset.

With a growth mindset, you need to be humble towards your audience. You need to earn their attention. Why your content? They have so many to choose from. There is a whole buffet of content to enjoy not just from your own country but all over the world. What you are saying might be important to you or your organisation but you need to make it relate to your audience. You must attract them to feel that you are speaking to them and not at them. A lot of listening must be done before we even embark on saying our piece.

At the heart of filmmaking is the art of telling a good story. While storytelling is mostly associated with entertainment, education, and culture, it also plays a major role in business. What do you think the greatest benefit of storytelling is to empower businesses? Storytelling should be the heart of any business. What inspired your business? Why does it exist? Who are your solutions? What is your dream for your community and the world? These are elements that every business must be able to articulate. The goal is to inspire and resonate with your customers. You want your customers to walk this journey with you and feel that you are a partner in their journeys. We want our customers to dream and progress with us. Storytelling is a method to communicate our values and dreams to forge a future together. If you want the customer to be invested in you on a deeper level, storytelling is the way.

Often, businesses are not keen on being specific regarding their narrative. Being specific allows you to stand out and identify the aspirations of your customers. Everyone has a dream. They might be on the way to the idealised version of themselves or have reached it in some way. However, everyone is on a journey in this life. Everyone is a work-in-progress. We all want to progress in some way to a better state or place. Storytelling allows businesses to communicate to their customers that they want to be a part of that journey with their customers. This form of empathy allows their customers to identify with their mission and vision, becoming loyal to the brand. In turn, they could advocate for you and bring your business further if they have a strong resonance with your message.

What advice would you give to businesses working in this industry?
Read and engage widely. It is tempting and simpler to stay within our circles. If we embrace diversity in our lives, we would be able to know what unites us all. Growing your network and connections with people from all walks of life would not only enrich your work but enrich your own life with rewarding experiences even money cannot buy.

How has Servcorp transformed your business?
Servcorp gives me exclusive access to a physical presence for my business and dedicated support staff that is always there for you. The technology they have implemented as part of their office packages allows me to focus on my work diligently. The spaces prepared by Servcorp are professionally and tastefully designed. They communicate value to the people you work with. Working with Servcorp changed the way I thought about my work. The professional environment allows me to open up the blind spots I had about my business and improve how I work.

Overall, having a dedicated team to be there as you work on your core business gives you tremendous peace of mind and confidence to face your business challenges head-on.